Welcome to the Wings of Fire Fanon Wiki where fans take flight and soar!
Please read the Rules before editing. Happy flying!
---
(image credits listed above)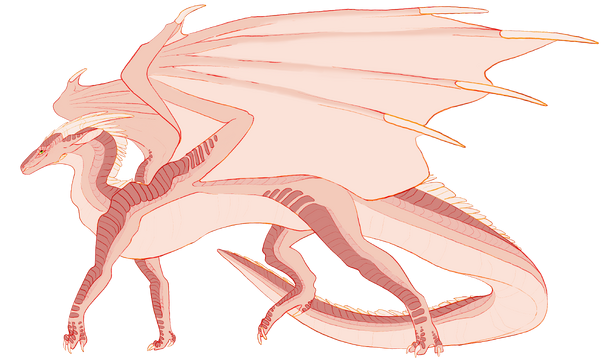 Our mascot is Vic, short for Victor, who is a goofy gentledragon belonging to no specific tribe. You can read more about this loveable fellow [here].
---
(image credit to NightStrike the Dragon)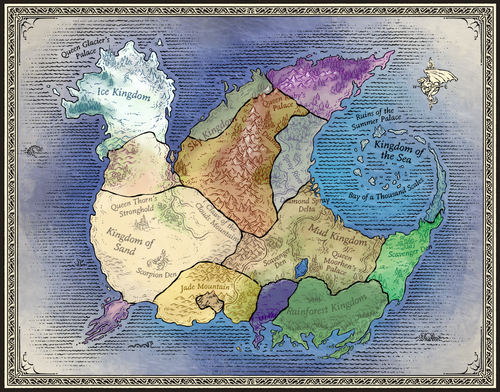 We will not accept any new tribes, so please don't make pages for them. If you have ideas, however, please leave them on a
blog
.
There will be no fantribes on Pantala.
MistWings
MistWings are small dragons, about the size of RainWings, with cloudy and foggy-colored scales with rounded sails on their backs and under their jaws. Members of this tribe are quite harmless outside of their own territory, but are great at camouflage in the high mountains and have a misty breath that is able to numb a limb for a limited amount of time.
Despite their docile nature, this tribe does have an extensive military and is known across Pyrrhia for their advancements in military-grade medicine and other healing properties. Since they are allies with the war-force tribe, the TempestWings, it is no surpise this tribe has adopted some of their practices.
The MistWings have a great respect for their queen, having a whole holiday dedicated to celebrate her and her rule called "Queen's Day." The current queen is Queen Rhinae, but the government is also split into two sections under her: the Family of Purity and the House of Deacons.
Wings of Fire is a book series by Tui T. Sutherland. Five young dragonets are destined to end the Great War caused by warring SandWing queens. But there is more than one way to fulfill a prophecy, and the dragonets escape to save the world their own way.
This series belongs exclusively to Tui T. Sutherland, the author. We are simply using her world as a backdrop and an inspiration for characters and stories of our own.
Users work hard making their characters and fanfiction, so please do not use their work without their permission.
Community content is available under
CC-BY-SA
unless otherwise noted.