Welcome to the Wings of Fire Fanon Wiki where fans take flight and soar!
Please read the Rules before editing. Happy flying!
---
(image credits listed above)
Our mascot is Gay Dancing Roach (as of 6/1/2020). All Hail. Happy Pride!
---
(image credit to NightStrike the Dragon)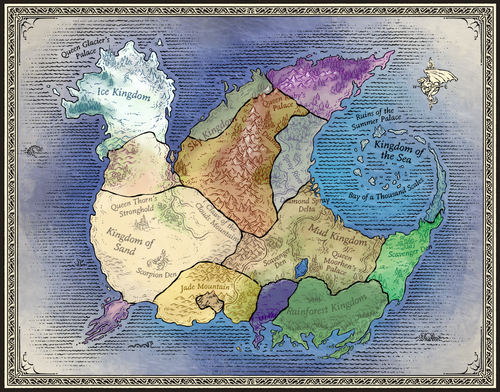 We will not accept any new tribes, so please don't make pages for them. If you have ideas, however, please leave them on a
blog
.
There will be no fantribes on Pantala.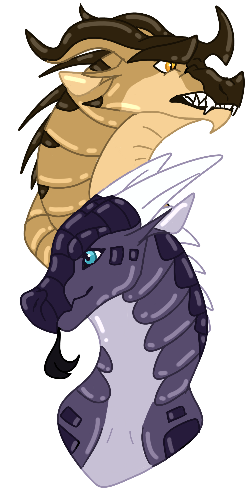 HiveWings & NightWings
HiveWings are a Pantalan tribe inspired off of bees, wasps, and yellowjackets. They are often yellow or amber in color, with black markings, and have four wings like an insect. This tribe has a pool of abilities, including wrist stingers, teeth venom, claw venom, paralyzing toxins, and an acidic spray from their tails; however, they can only have one or two of these abilities. The HiveWing tribe took over Pantala under the leadership of their current ruler, Queen Wasp, forcing the LeafWings into hiding and the SilkWings into submission.
NightWings have always been perceived as a mysterious and powerful tribe on Pyrrhia: believed to be able to read minds and predict the future. However, only NightWings born under a full moon have a special ability, but these are few in numbers. This tribe is known for being large, with black or dark scales, and wings that have a star or galaxy pattern. All NightWings can breathe fire and blend in to the shadows. Their current queen is Queen Glory of the RainWings, since Princess Greatness refused queenship after her mother, Queen Battlewinner,'s death. Later on, Darkstalker became king until he was defeated, and the NightWings are once again under Glory's rule.
---
(image credit to Wings-of-Bloodfire)
Wings of Fire is a book series by Tui T. Sutherland. Five young dragonets are destined to end the Great War caused by warring SandWing queens. But there is more than one way to fulfill a prophecy, and the dragonets escape to save the world their own way.
This series belongs exclusively to Tui T. Sutherland, the author. We are simply using her world as a backdrop and an inspiration for characters and stories of our own.
Users work hard making their characters and fanfiction, so please do not use their work without their permission.
Community content is available under
CC-BY-SA
unless otherwise noted.