Welcome to the Wings of Fire Fanon Wiki where fans take flight and soar!
Please read the Rules before editing. Happy flying!
---
(image credits listed above)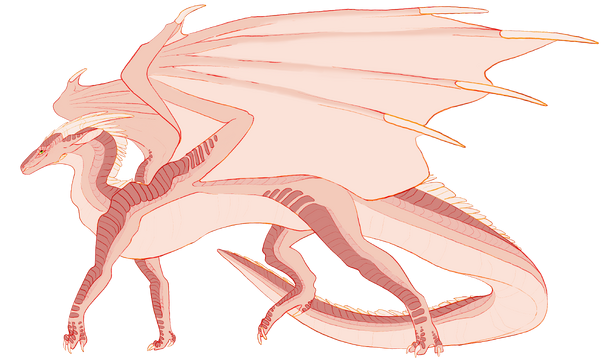 Our mascot is Vic, short for Victor, who is a goofy gentledragon belonging to no specific tribe. You can read more about this loveable fellow [here].
---
(image credit to NightStrike the Dragon)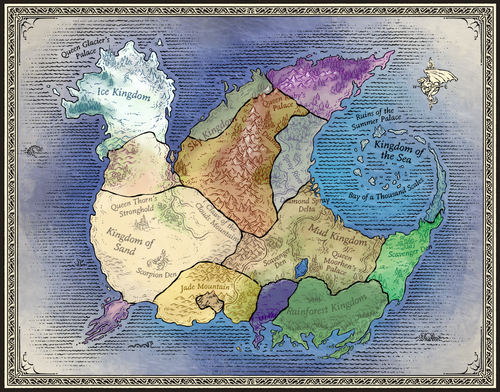 We will not accept any new tribes, so please don't make pages for them. If you have ideas, however, please leave them on a
blog
.
There will be no fantribes on Pantala.
SilkWings & RainWings
SilkWings are a butterfly-inspired tribe on the Lost Continent of Pantala, where they are ruled by the HiveWing queen, Queen Wasp. Before Wasp took over, the SilkWings were ruled by Queen Monarch. Members of this tribe have iridescent and colorful scales (all colors except black), with two sets of butterfly wings. SilkWings do not have wings when they hatch, going into metamorphosis at six years. They can shoot silk from their wrists glands.
The RainWing tribe was known across Pyrrhia for its laziness and cowardice, since they did not participate in the SandWing War. They live in the rainforest on the south of the continent, where they eat vegetation as a main diet. RainWings have color-shifting scales for camouflage, as well as a prehensile tail and venom sprayed from their two front fangs. Around the time Queen Grandeur was queen, the tribe stopped using their venom against other dragons, instead becoming a pacifist tribe. The current RainWing queen is Queen Glory, after winning the competition.
(
Read More...
)
Wings of Fire is a book series by Tui T. Sutherland. Five young dragonets are destined to end the Great War caused by warring SandWing queens. But there is more than one way to fulfill a prophecy, and the dragonets escape to save the world their own way.
This series belongs exclusively to Tui T. Sutherland, the author. We are simply using her world as a backdrop and an inspiration for characters and stories of our own.
Users work hard making their characters and fanfiction, so please do not use their work without their permission.
Community content is available under
CC-BY-SA
unless otherwise noted.