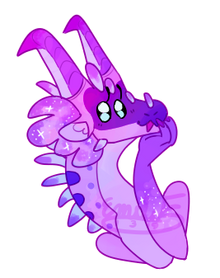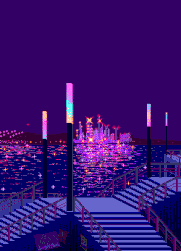 V a p o r w a v e
V a p o r w a v e
V a p o r w a v e
aesthetic tunes
there is no easy way from the earth to the stars
Vaporwave is my sona, please don't use them without permission first, as they are me. As for editing, please do NOT edit this page in anyway unless it is to add categories, or there is a reason behind it which that case, please check with me first before editing their page. I can spell check and edit grammar mistakes myself, thank you
look, it's me but a dragon
he / they | rain x night | artist x writer | hufflepuff x slytherin
"Once you've done something, you never forget... Even if you can't remember."
"Nothing, never mind, I was just talking to myself. Or also this one person in this game I'm playing... wait, can you even call them people? They don't exactly have human-like qualities or anything... Oh, never mind that either. I think I may talk too much." ~ Vaporwave
Living off shore the sea was where Vaporwave had once lived, a rather enjoyable life yet so abnormal for the waves never seemed to move, it was every time they went walking on the beach, lost in thought, would they always stop at the salty waters of the oceans and lightly tap the cool waters, as though glass, they seemed cautious. The world they now lived in was,,, so weird, seasons seemed to change their usual ways, time itself seemed to stop, the dragonet didn't seem to mind it at all or even really know, they were so young, they never really remembered anything that happened. The beginning was a vague memory now, but they could have sworn sometimes tiny little figures would yell at them for not watching where they were going and, sometimes, large silhouettes of whale-like beings in the still waters. The chilling thoughts of this place must have hit their parents for they left the ocean to Possibility when Vaporwave was only 2 and their brother was 4.
The world residing in Possibility was,,, not as well adapted to as it was near the ocean, far away from any noise or common disturbance, they lived in a rather squarish house with the rest of their family, nearby to their grandparents' place, a truth behind the reason of moving.
Vaporwave
Artist

Enigma

!
Background Information
Nicknames
Vapor / Vere / Marbles (occasionally) / Verglas / Ver
Creator

Verglas

Fav Colors
Pastel blues / blacks / greys / deary blues
Interests
Zoology / Entomology / Cartooning(?)
Main Attribute
Cheerfulness / unusuality / creativity / ignorance / sadness / self-doubt / loss of confidence / music / Hollow Knight / comfort / integrity
Elemental Attribute
Spilt mercury / eagle feathers / melting candles / dew on leaves / dusty books / ink splatters / falling rain / glass marbles / bisexual flags / pixels / broken pencils
Theme Animal
Harp seal
Theme Color
Soft violets / scarlet / pastel blues / purples / light pinks / sky blue / dusty pinkish-purples
Theme Song
Oh, Miss Believer ~ Twenty One Pilots / Wolves Without Teeth ~ The Music Room / Windfall ~ TheFatRat
MBTI Personality
ISTP-A / ISTP-T
Character Information
Timeline
Semi-canon / modern Pyrrhia
Zodiac
Taurus
Soul Trait
Integrity
House
Huffletherin
Age
14 (human)
Gender
Genderfluid
Orientation
Bisexual or greyromantic, they're not quite sure yet
Occupation
Artist wannabe / gamer / student / writer / Hollow Knight nerd
Tribe
NightWing / RainWing
Goal
Find confidence in themself / handle the stress of being a leader / complete Hollow Knight / finally play all the games they enjoy!
Residence
Bay of a Thousand Scales (formally), Possibility
Relatives
Euphoria (mother) / Tulip (father) / Butterscotch (brother) / Starseer (grandmother) / Fuzz (grandfather) / Lucid (grandmother) / Herbane (grandfather) / Icor (great-grandfather, deceased) / Toucan (great-grandmother, deceased)
Allies
Family / friends!
Enemies
Themself in some cases / mean dragons
Likes
Having a good time / sour sweets / Hollow Knight / Undertale / Deltarune / Wandersong!! / math / reading / blue (preferably of lighter hues) / compliments / being welcomed / not having to speak / very short conversations / being left alone in the dark / altogether sweet things / knowing a secret / lyricless music / soft jazz and rock / being weird without embarrassment / fading into the background / remembering good things about themself / darkness / semi dark topics (for some reason) / wearing headphones / sleeping / bad puns and jokes / hearing laughter / talking to online friends / relief / neon colors / admiring the scenery / cats / touching soft furs / action-adventure-fantasy novels / being liked / owls / dark colors / really cool art or coding / fun games / dragons / drawing and doodling / improving their art / being called by their prefered pronouns / feeling at peace / making art for others / cool designs or ideas / inspiration / doing absolutely nothing / dinosaurs / learning about cool topics / listening to music / thinking positively / randomness / knowing what to do / lovable characters / Gravity Falls / cute or really cool graphics / gore-free games / Night in the Woods / Hornet!! / reading about in-depth lore / watching others play games / commenting on their own games / pretty colorations / stars / lemonade and soda / females / time / well-developed characters / winter and fall / warmth / game soundtracks / others not understanding them / reading backwards / challenges
Dislikes
Really bitter things / very quiet music / jarring noises / romance (bleh) / clingy dragonets / discrimination / Roblox / Fortnite / really cringy things / being yelled at / death / a lot of gore / lacking of good spelling (does mind it though) / too much computer language / meat (makes exceptions for some) / being told what to do / puppets / clowns / SPIDERS!! / annoying sounds / feeling down / sadness / heartache or pain / looking dramatic / guilt tripping (as in they don't want to do it) / regret / vivid detail or lack of it / smoke or any pollution to the environment / dares / being competitive / not feeling that important to anyone / getting lost in their mind / rap, rock or heavy metal music / obnoxious things or sounds / being too hot or being too cold / itchy feelings / pain / forgetting passwords to their things / not being called by the prefered pronouns / old art / embarrassment / social studies...
Powers and abilities
Almost absolutely nothing, just sparkly fire and a Gravity Falls, Hollow Knight nerd
Weaknesses
Incredibly low self-esteem / self-doubt / terrible at starting conversations / works alone / lazy / ignorant and sometimes arrogant and sassy / LOUD / awful at being social / wanders off a lot / easily distracted / sometimes clumsy / nervous / lacks true powers / most of the time doesn't look before they leap / has literally no confidence in themself / scared of spiders / doesn't stand up for themself / terrible writing skills
Strengths
Hollow Knight nerd / swift typer / fast walker / nice fighting skills(?) / thinks logically / forgiving / smart(?) / okay artist and typer
Weapons
Talons / their words mostly
Love Interests
"Hmmm, just some characters from video games... heh"
Status
Dead inside
Quote
"Listen, I'm not the right person to come to for a task like this. I'm not useful so how could I possibly help you?"
This strange dragonet would undoubtedly catch your eye, yet no one casts a second glance on this figure skipping down the roads of Possibility, for what is there to know about them? A grin ripples across their longish snout and to some, bringing an unusual combination of two tribes, NightWings and RainWings, obvious combinations even, although they appears to not have a capability to change the color of their scales all that well and in turn has two main looks, one usually occurring than the other, bright lavishing pink with tinges of purple here and there dappling the scales. In turn, a fine mixture of navy blue runs in and around their bright sky blue eyes, one may say someone would stop and take in their appearance, but to be honest, there is hardly anyone out there that still has respect for hybrids anymore, they wouldn't bother casting them even the bit of a glance if they were to see them down and on the streets.
With this, a vibrant, midnight blue ruff that remains unusually large flops behind their bat-like ears, pink on the inside and, at the tips, almost black although it's possibly just a dark blue. Upon the ruff, you'd notice the speckles of silver stars of all shapes and sizes, running freely across the blue with the occasional dusty pink like a galaxian cluster whirling around the silvery stars. Little blue or in some cases purple dot near the pale sky blue underbelly, having a similar hue to that of their eyes and upon their back, painted in a deeper midnight blue, flat scales swiftly run across their back followed by softly curving spines, which remain either a coarse light blue splotched at the top with a paler purple or will stay a hue similar to that of their ruff, a fondly light midnight blue.
There would also remain, their build, stocky and rather short, Vaporwave is more on their NightWing side when it comes to things like this, a more hunched and slouching spine in a way and with it, slender legs, yet they cease to be long, remaining a good size but short all the same and somewhat thick. They could be considered chubby around the legs, rather instead of being "thick" with muscle, it's fat. Some strange characteristics within their horns, almost like twin boomerangs, scaled pastel blue horns jut upward, curving gently over the head and pointing down their back (this can be shown in Enigma's infobox image) while the scales running down these said horns are a darker midnight blue, similar to that of the dawning sky, fading to the night, an inky blackness. You may notice their legs, a soft hue of purple fading from the mainscales of a tender-light purple-pink to the tips of a dawn purple and, around the arm, a few places down from their elbows, silvery scales like stars, running down the alley, pausing just before this light purple turns to its full extent, this being near their wrist (can be seen on Marbles image to the left).
One may look at their tail, long and displaying a good sort of RainWing heritage yet it shows no good when it comes to climbing trees, nor would you ever see them in a tree in the first place, but it remains the same as their main scales, no funky designs like the rest of them, just normal and somewhat "bland." Eye-seeking, the wings are the most noticeable part of them, auras of deep blues and whirling purples, deep in color, as though the midnight sky itself and, in a snail shell pattern similar to that of Morrowseer's, silver stars, scattering the underside, which almost seem to glow a little in the dark if exposed to a lot of sunlight on that same day, around the base near their sky blue underbelly and edges remains darker than that of where the membrane clings to their wing, staying saturated with dusky colors, lighter shades and beautifully mixed well in hues.
<insert description of alternate appearance here>
bullet points for right now XC
like normal vaporwave but pinkier, has a rosier pink-purple scale coloration on face but it's more purpler on rest of body
horns can be either the same color of his scales or a pale violet, scales run up the fronts a magenta all spacy and stuff
Indigo scales patch his back, lighter purple spots near pale blue-purple underbelly (look at marbles', pumpkin's, grapecake's and raybean's art in gallery for better description of his appearance)
sky blue eyes, a poisonous purple tips his short snout, fading into a deep purple around the eyes and nearing his horns a bit of magenta or pink???
like in main appearance, galaxian purple socks his legs, star upon halfway mark on arms while nearing elbows, rounded shoulders
lightly curved spines start a lightly mixed bluish purple tipped with pink but fade into a light blue tipped with light purple when hiding behind ruff, blue and purple spines run down the rest of his body
tongue isn't forked, rounded and hot pink >:)
Nose horn, short and rounded like a stud, identical to the other spines upon his head
wing membranes a light galaxian pink with some sharp purples and blotches of silvery pinks(?)
long tail? sure
hollow knight hornband thing on head!!! vapor being the hollow knight nerd he is, sometimes wears dull blue cloak (seen in pumpkin's and fly's art, it's the ghost's cloak thingy!!)
starry monarch wings will sometimes replace his regular wings, it's a hollow knight reference!!!!!
or maybe a red baseball hat because why not? he's a typical class man

yeah, with a striped shirt because all kids wear those!!! he's more of a spunky man too

maybe some spunk stuff, feathered tail! midnight blues fading into dark purples with light silver stars
ruff is medium sized with swirling galaxian colors, dusty pinks with highlights of purplish pinks and hot pinks, stars,,, lots of stars,,,, he's a star boy
smoal, wiry build and somewhat thin??? small wings too but large eyes and long tail
weird insect-like eyelashes, black (see fly's and marbles' artwork!)
doesn't have long fangs because that's junk and he doesn't have stuff like that!! horns are long with a bend at the tips, curving it sideways

it makes it look like he was in an accident where his horns got forced backwards a bit!! but i assure you he was born with those
Vaporwave usually wears airy clothing, usually being a favorable dull blue hoodie with tiny figures of vessels doing certain actions upon it with a complementary pair of black leggings and no shoes, well it's either that or a bright red sweater with black sheep on it and blue pants with purple and pink butterflies studding it. This is a casual anthro appearance you may notice the hybrid dragonet in, followed by lightning blue, catear headphones and a black and yellow scarf around their neck, no matter the season, they wear it with pride for the colors symbolize their house, Hufflepuff and in the center of this wool scarf... a badger, deep grays and whites and if they were to smile, you'd notice shiny turquoise braces studding each individual tooth, although they call them "metal teeth."
"Vaporwave is an interesting hybrid case. With a very selective, but "organized" sense of scales and feathers and fur. Their build and elegance are quite surprising in the case of the often funky looking Night/Rain hybrids.
Unlike most dragons, even NightWings themselves, Vaporwave stands upright. Even those who do stand upright usually have a raptor posture, but they strike a quite elegant balance standing upright, wings splayed for balance. Vaporwave gives off the impression that they're a tall dragonet by doing this, looking down at most other dragons their age when they speak to them, but once they drop down on all fours, it's quick to notice that they're actually quite small.
Another illusion of height and size is their feathers. Vaporwave has a "crown" that puffs up like a, well, crown, and smoothes down like long hair down their neck. There's a similar ruff of feathers on their chest, which they can splay out at will. When not in use, they're often smoothed down quite elegantly in what appears to be a colorful looking tie.
Their wings are like that of their NightWing ancestors, though the talons in place of NightWing's talons are the two fingered claws of a chameleon, or a common RainWing. They're dexterous and Vaporwave can use them to hold things and use tools, it's simply the wings extending from their wrists that would cause them trouble.
Their tail is connected to the webbing of their wings, though overtop this soft skin are even softer feathers, that splay and smooth just as any of the other ones on Vaporwave's body.
The majority of Vaporwave's scales and fur are quite matte. There's no glimmer or shine to the deep blues to purples and pinks to oranges on their main body. Though, what's really eyecatching are the glimmering, sparkling feathers on their chest. A similar shine is apparent in their crown, on their tail feathers, along the ends of their legs and the tips of their talons, but especially on their chest and under their wings." ~ EnigmaTheHybrid
pretty positive most of the time, but altogether forgetful
very much so an introvert, isn't very comfortable with talking to someone face-to-face for very long
pretty much a conversation with them ends in cold silence, so they tend to just walk away from any socializing
can't socialize,,, ever and probably never will, they can't start a conversation, it just gets awkward really fast
doesn't find themself very interesting, one reason they don't talk very much, because they think they're too boring for anyone's liking
convinced they don't belong anywhere, so they're pretty clueless to life and don't really know what they're going to do
yells alot, usually when under some pressure or just talking, doesn't really watch their volume that well
that one guy who mumbles out responses to questions and then is asked to speak louder
lazy, doesn't like getting up early, it kinda makes them grumpy
low self-esteem, doesn't find themself that great of a dragon, but they usually just pretend everything's alright since they believe no one wants to hear their complaints and stuff, too boring
likes calming music, along with pop and techno, prefers music from games or movies because why not
likes rather squishy or "gross" animals, enjoys touching and holding newts, snakes and snails, animals are cool and they love watching them
likes jumping blindly into games, they find it really fun and makes the game exciting when you don't know what you're doing, hates looking up playthroughs or guides because they ruin the fun of playing the game
likes walking, that's a fact, also reading, because she has nothing better to do but also books are really cool and have a lot of imagination put into them
hates it when they have a song they really like but either forgot the name of it or don't have the name of it,,, that goes especially for lyricless music,,, then they can't look it up via lyrics
can be brutally honest if they want to, but usually refrain from saying anything because,,, they feel no one cares about their opinions too much and would only make the situation worse
doesn't like coming out guilt trippy or as a drama queen, so they usually think about what they say first, doesn't like it when others try to do it to them, so they try not to do it to others
not afraid of death,,, doesn't really get why dragons find death "scary" or "bad," it comes natural and plus,,, there's nothing wrong with it,,, that's just how it is
wants to get a cape, because capes are cool and make them feel better, although when they think about wearing a cape they just get embarrassed
always seems to worry what others will think of them if they wear a certain thing or say a certain thing,,, hates this part about themself because they want to be themself

that is, they don't like who "themself" is so they just consider themself flexible, bending themself into someone others may like, they don't show their true colors,,, never will most likely
calms themself down through a nice walk and listening to chill music, it really does work but then gets a bit grumpy when someone interrupts them during those important moments
kinda just likes shipping insanely weird things that are gay because that's just who they are,,,
then again, can get grumpy if their in the middle of doing something, would much, much, much rather fade into the background and let everyone forget about them
likes "me time," enjoys sitting alone in the dark thinking about all the negative things in life that they have done, doesn't,,, really like themself that much either,,,
cats are the most important thing in her life, enjoys petting them and listening to them purr, will sometimes just hold them for a few seconds and then put them down
can have a dark sense of humor,,, they're weird and doesn't find this a likeable feature about themself, kinda just switches to dark topics really quickly because that's the only thing they can talk about

that is other than their interests because,,, reasons

enjoys spectating instead of doing something themself, can't really answer questions that well so they just say "i dunno"
doesn't find themself that inspirational, literally has no inspirational quality, with that finds themself just too bland and boring and so quiet they just don't understand why others even talk to them
probably considered a coward, walks away from problems they didn't cause, doesn't find themself the right dragon for any job and not very useful when helping someone
most of the time lacks motivation, hates sick days like anyone would and like mentioned before is pretty lazy and tired most of the time
usually drifts into daydreams when running around, that's where they get most of their inspiration from
mind is usually up in the clouds, really, sometimes forgets why she's even there and how she got there
almost always thirsty, but doesn't eat that much so they're kinda thin
finds themself flexible to some changes and is willing to change to have others like them, although they don't really like this feature very much
reads a lot, plays a lot, likes watching others play games a lot
sometimes competitive and sarcastic, can fight anyone if they felt like it, but that isn't most of the time, in fact pretty much never
comments a lot on games, so they talk a lot when alone, but just fall silent when in public or with others in the same room, enjoys mostly commenting on the strange faces characters from wandersong make
then again, as i stated they sometimes don't watch the volume of their voice and can be loud, this is especially so when watching an intense fight
completely clueless, most of the time doesn't even know what they're doing, mainly in games
yells quite a bit, they're loud
pessimist, only thinks of the negative things in life, really, no matter how hard they try to see the bright side, maybe it's because they're so glum and introverted or because they like to hear the negative things instead of the positive things
loves listening to music, that's a fact
that one person who laughs randomly, is pretty weird and comes up with these insane ideas that aren't actually possible
likes paradoxical questions like "if anything is possible, is it possible for something to be impossible?"
when mind is set on a game they like, they'll never stop talking about it
usually wonders what others will think of them, mostly they say nothing because then no one can comment on the stuff they say, can get embarrassed about their weird fandoms easily
loves animals, more of a quiet nerd drago themself, although just remove the nerd part and you've got Vaporwave
doesn't have confidence in themself, rather they don't even trust themself to do or say the right thing
doesn't get memes, they're far behind on those, rather they don't understand why memes are actually funny, to them it's just a bunch of cringy things
would much, much, much rather be one of those characters you see walking around randomly in the background than be a side character or, even worse, the main protagonist, doesn't really like having a lot of dialog to remember
frowns most of the time, they are convinced their smiles never look good, rather they're weird or make them look nervous
could probably recite a few episodes from Gravity Falls, mostly just the dialogue from just that one episode they probably watched one too many times
can be an optimist in some situations
can be considered considerate, loves drawing arts for anyone if they have motivation and,,, even then they still manage to give some art to their friends and dragons they want to get to know better
hates,,, gameplay videos,,, could probably write a 5-paragraph essay about why they hate it so much
Kind of a good artist, sometimes likes shading and highlighting, although wishes she was better, tries to draw the stuff she envisions in her head, but can't seem to do it no matter how hard she tries
Kind of good at fighting talon to talon, sharp claws and can bite if threatened enough
Fit into tight spaces, although prefers not to, I don't like getting stuck
Has a very glittery purple fire for some reason, might be some defect, I dunno
Can somewhat read a tone of voice in text messages, it depends on what is capping the ending of a sentence, periods make it sound firm, bored, tired or even aggressive while exclamation marks can either mean excitement, thankfulness or yelling (along with all caps), question marks in this case can mean either a question (duh) or excitement as well
Kind of good at hiding,
Hides inner feelings, I don't like people feeling bad for me because that just doesn't seem right, I looks like I'm seeking attention
Has some self-loathing, it's an issue I need to deal with
LOUD, sometimes I can't keep my mouth shut
Scared of spiders, big ones I don't like, small ones I fear when they're next to me or one me
Somewhat scared of heights, I like to climb trees but then I get stuck up in them, kinda like a cat would, except without sharp claws
Can't fly too good, is actually really flimsy, although I really wish I could fly...
Forgetful, can't keep track of time period and usually forgets other important things, or people
Terrible at getting up on early mornings, I'm almost always tired
No venom in fangs, oops
Harmless fire, but it will make some sneeze >:3
Sometimes lazy, but tries not to be, I like sleeping more than working often times
Terrible handwriting, bleh, something I suck in
Same when it comes to writing numbers like 8 which tend to look deflated and look like nines
Not the highest on self-esteem
Will sometimes imagine things happening, like for example I hear someone talking but it turns out no one is actually talking, or I see something move but it's actually staying still. Sometimes I even confuse things that are fake with things that are real
It was during those times when oceans seemed to stop their abrupt moving that Vaporwave's history had begun, such a happy life it was, although in this world, yet again very strange for nothing is as it seems here on this twisted Pyrrhia. Hatched near the ocean, the hybrid dragonet was prone to seeing abnormal activity everywhere, strange creatures in fact seemed to appear in the blink of an eye and simply disappear a second later, but what the strangest part was... the ocean itself, frozen in place, it was either that or the waves were moving incredibly slowly. Yet whenever she put a talon into the water, slow ripples lazily scatter away from them, as though running, but the waves remained still as though carved from blue-green marble, "how strange" and "how odd" usually came about when admiring the bejeweled crests of the waves and in some cases, they'd sit down on the sandy shore and talk to them. If only there was an explanation for it all, the weird behavior of everything, the leaves turning flame red in the summer and bright spring greens in the fall and winter months, there never had been an explanation for it all, but it didn't seem to bother Vaporwave, who enjoyed the pillow soft sands of the beaches.
NOTE: Please refrain from putting ocs in here, due to being my sona, feel free to add your own sona (or alt) in here if we've had a good conversation with one another, that way I have gathered thoughts on what to feel about you. I have my right to decline if they don't fill out the requirements, of course, your sona has to live on Pyrrhia, they have to be your sona and we must have a long conversation or your sona is well developed enough for me to gather feelings from them.
LOVES popping bubble wrap for some reason, he just likes the satisfying noise it makes
Is obsessed with Hollow Knight (if you couldn't already tell by the pictures put on my wall), so he wears a hornband to crossplay as the ghost
Really likes dark colors, preferably blacks and greys, but also loves a mixture of colorful pastel blues and pinkish purples
Yells when stressed or pressured (or if being talked to by a NPC in one of his games)
Likes throwing rocks into water, finds it quite fun to do, likes watching the ripples upon the water's surface
Is a proud member of Hufflepuff, but is more a Huffletherin (Hufflepuff and Slytherin)
Likes talking to himself, or to his computer, mainly because they're the things that won't talk back to him
Leans towards other females, although hasn't found any he's taken a liking to, he'll ponder about these thoughts in the further future
Right taloned, can use both talons, but is really sloppy with his left
Is a fast typer, he can confirm that, gets writer's block somewhat easily after typing for too long
Has arachnophobia (fear of spiders) and probably a few other phobias too
Also likes talking and yelling at inanimate objects (or NPCs in video games), it's mainly yelling at NPCs, commenting on what they say or, when he's watching a video, on what the person says in that said video
Likes some games he's never even played before (coughcoughNightintheWoodsandotherstuffcoughcough), he hopes to play them all in the future!
Good singer and is pretty smart, although he always doubts his abilities
Likes singing the lyrics to songs he likes, if of course they have lyrics at all, most of the songs he likes do though
Obsessed with art and writing, although is convinced he'll never be good at those things, no matter how hard he tries, he thinks only about the negative
Can get easily distracted on other things, has the attention span of a headless scavenger
Claims he's somewhat deaf, honestly doesn't have that good hearing
Tries to make dramatic entrances sometimes but really can't
Literally owns seven pets, six cats and one dog
Sucker for Tattletail
Bright lights sometimes makes him sneeze
Actually somewhat likes getting scared, it's kind of fun, doesn't scream, he flinches
Somewhat has a fear of heights and gets stuck in trees easily, that's why he doesn't like climbing trees but that doesn't stop him from climbing on other stuff
Major and hardcore nightowl although NOT an early bird

And sometimes it's the opposite

Thinks he may become a Game or Book Theorist as a future career, although he's still putting some consideration in what he wants to be, most of the time, his mind comes back to bookstores and being a librarian
But is also thinking of becoming a helper at a bookstore or something like that
Sucks but can play the piano
Has braces and they're terrible, keep cutting into the inside of his mouth and it hurts, makes talking and eating a lot less fun
Can't whistle or snap, it's too hard for him
Somewhat sensitive to light, likes the dark because he's more nocturnal
Sometimes a picky eater
Deathly afraid of saying the wrong thing or someone getting the wrong idea, leading to getting in trouble
Isn't totally vegan, makes some exceptions for meat products
Interestingly, Vaporwave prefers he / him pronouns over she / her, even then, he likes demiboy pronouns, they / him, mainly because it just makes him feel good and warm on the inside, these are my prefered pronouns as well
Probably socially awkward, since conversations are hard to both start and end, they just get so awkward so fast
Among her favorite shows are Coco and Coraline for some reason, I just really enjoy watching them, of course there is also The Little Prince which I love very much
Theme song has changed about 3 or 4 times while her appearance has been revamped about 1 or 2 times
Doesn't really like eggs, hates them raw, but likes them in things like soups and stuff like that, a reason he doesn't really like french toast that much
Hates the smell of lavender, it's both overwhelming and just not his favored smell, much prefers vanilla or something nice like that
Doesn't really have a constant art style and draws to music almost always, it gives him better inspiration when he does and it calms him down after a long day
It took me so long to find my true theme song :o
Is actually the second hybrid I made on the wiki who's still living and was originally my alt sona before Lionheart until she died and became Astro, she is possibly the second oldest character I'd ever made on the wiki
Feels he's not speaking up for himself a lot of times, probably because he fears he'll lose friends due to that
Actually is pretty good at voicing his opinions on something with himself, but never really tells anyone else fearing it'll hurt their feelings
Doesn't like that many mary / gary sues that much, he just finds them kinda annoying and overwhelming, but some are okay since they're cool and stuff
Likes really strange music that some might not even call "music" but just a bunch of random noises being played to a beat which I guess is music

Preferably, he likes music from video games, with a huge liking towards Hollow Knight, Wandersong, Deltarune and Undertale themes

Sometimes I'm tempted to do the exact opposite of what something in a game tells me to do, perhaps it's for amusement, or something like that, I dunno
It feels really strange to have deleted the first character I've ever made on the wiki, although I still have the second, which is Vaporwave, but it still feels really strange
I can read backwards fluently, yet I can't really speak backwards that easily, is now learning dragon script too
Loves making little snacks for his family, a main ingredients being cinnamon and crackers, enjoys making new things to try
Youtube and My Little Pony is my childhood, but now doesn't watch them as much anymore
Where's motivation when you need it?
Speaks in all lowercase, it's much easier and quicker to type stuff that way
Originally, Vaporwave had one design, straight pastel blue horns and ruff with stars speckling it along with poisonous purple mainscales and a fading tail, however after seeing the interesting designs in marbles and enigma's artwork, I decided to give him a combination of the two
His name actually comes from the title of artwork called "Vaporwaves" that I saw on the wiki and, thinking the name was cool, decided to give this name to my (alt sona at the time) sona the name Vaporwave
All art is listed according to who made it, if they aren't labeled with someone's name, they are mine, please don't use any art without permission from the artist and me, thank you!
Ver's Note: Everyone has their own different style of drawing Vaporwave, feel free to go a little wild when drawing him, some add-on interpretations are always encouraged, draw him going by either appearance or combine the two! A common accessory both normal and athro Vaporwave share are Hollow Knight horns that can be seen in Grapecakes art, feel free to add these when drawing him.
Community content is available under
CC-BY-SA
unless otherwise noted.