Hello! Welcome to my profile!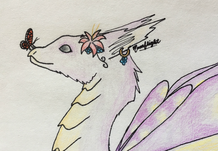 Art Trades~ OPEN
Requests~ CLOSED
Hi, my name is Moonflight (but i will have a sona soon, so I might change my username or something). I like cats, dragons, drawing, and swimming. I doodled the dragon on the right a few months ago, and I couldn't help but color it. I might make a blog for it... could be called a FlowerWing?
"Just because my path is different doesn't mean I'm lost" 



~Gerard Abrams



Main Oc's~ Aracari (AW) , Juneau , Markhor , Moonflight , Prince Wolverine
My Sona's name's gonna be .....*Drumroll*..... Plumeria! It's a Hawaiian flower that smells really good (Wow, that sounded weird, Haha!)
Community content is available under
CC-BY-SA
unless otherwise noted.