Welcome!
---

Why not use this code from my sona's page too? Btw, coding by Cloud the SeaWing. Why don't you listen to music?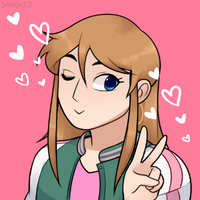 Younger sis|only sis|10|sassy|sometimes annoying|gets along decent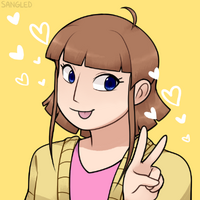 Younger Cousin|basically sisters|7|hilarious|crazy|has Disney+ (grrr)
Interests/favourites!
---
I do badminton, horseback riding in the summer with my friend, I used to do archery but then family problems happened that I won't go into. Badminton is my most regular sport, though.
I love Selena Gomez, mostly because she happened to create the best song in the world I still have not outgrown. You can listen to it above, it's the second song. Her new songs are also pretty great, I'm a big fan of her in general, she is very pretty.
I play the clarinet, and I can play one or two songs on the piano, I'm quite good at chopsticks and working on Mary had a little Lamb.
I have raised 7 chickens from birth, and they can all climb trees now because my cousin and sister and I are weird and it's fun to throw them into trees. One actually climbed to the top once, she looks like an owl OwO.
I love to read, write, and draw, I do digital art, which you probably already know. Reading is the best thing ever, and writing brings my fantasies to life!
I am on an iPad device, just in case you are wondering, and tend to be pretty active on here. For some of my favourite WoF ships, characters, etc, start a conversation! I won't bite. Neither will Ebony.
Names (do not steal)!
---
~Ulex
~Vulpecula
~Carina
~Terra
~Carmina
~Lush
~Japanese Maple
Art I've created
---
Ref of Princess Dragonbite for Wofan
Ref of Deep for Yinjia
Jada of Clink for
Ref of Whitecap for Ani
Jada of Mangobringer for Starflight
Headshot of Lacuna for Sby
Headshot of Canopy for Wolves
Headshot of Morganite for Ani
Headshot of Axo for Yinjia
Headshot of Starseer (DragonFire444) for Dragonfire
Headshot of Prince Dimitri for Pokeballmachine
Headshot of Inlet for Delta
Headshot of Sunrise (Luna) for Luna
Ref of Quickfoot for Viper
Random SeaWing Jada Ani stole
Random RainWing Jada Blackberrythepiratefox stole
Jada of Moth for Timberdash
Headshot of Claude for Pokeballmachine
Headshot of Kaolin for Speckles
Headshot of Sheras Moose for Piggyxl
Headshot of Luna (Delta) for Delta
Aurora Borealis IceWing Jada for Anazari
Headshot of Kore for Lexie
Headshot of Pearl Rose for Nova
Headshot of Mockingjay for Delta
Headshot of Princess Edelgard for Pokeballmachine
Headshot of Glaide for OcPerson
Ref of Scribble's dad for Moonmoon
Two random Jadas for Moonmoon
One random ref for Moonmoon
Headshot of Schottii
Chibi fullbody of Viperstrike
Chibi fullbody based off ref
Cartoony headshot of Viperstrike
Fullbody of Kurante
Cartoony headshot of Nixie
Headshot of Aragami
Cartoony headshot of Moon-jellyfish
Random IceWing headshot
Alaska (QueenPeril) chibi
Fullbody of -Anima-
Community content is available under
CC-BY-SA
unless otherwise noted.