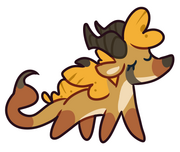 "Stop! In the name of the law! I will kill you!"
Please do not steal/refurbish/use my coding!
Theft will NOT be tolerated and will result in an IMMEDIATE ban.
---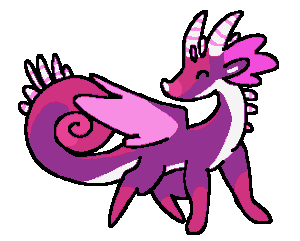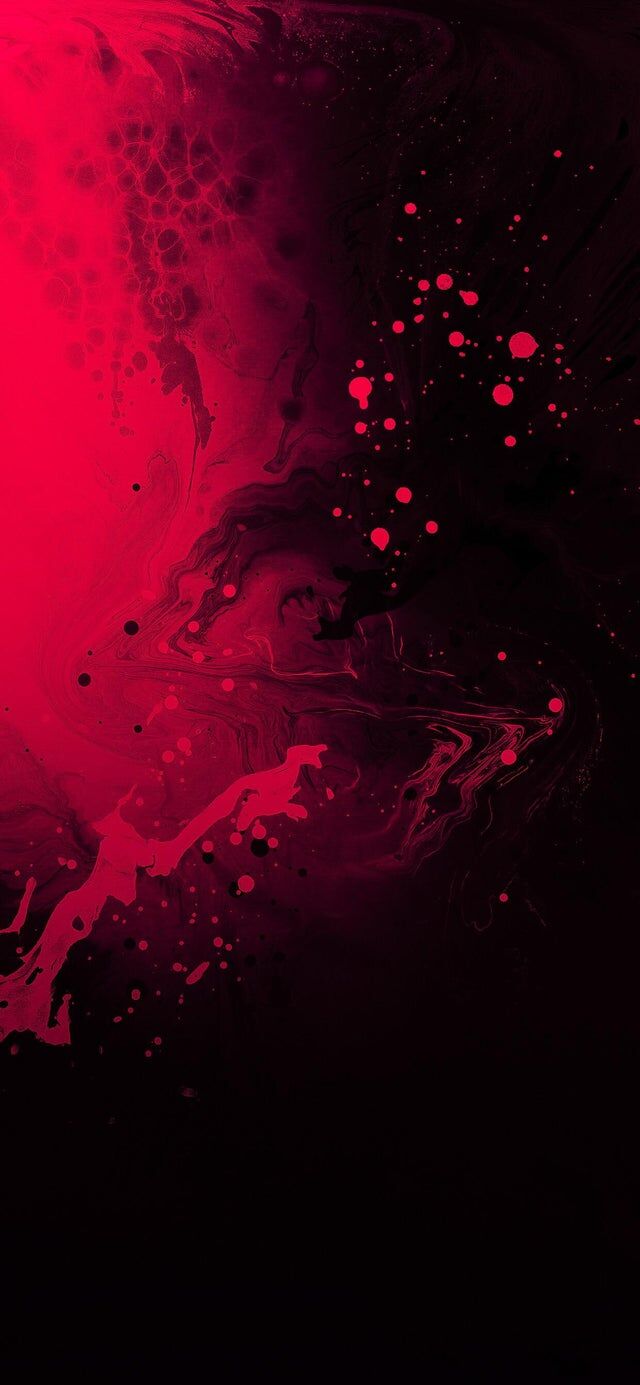 "If a woman kills me, do NOT prosecute her. She caught ME slipping. That is on ME."
Please do not use Unique/the content/the coding without permission, please and thank you!
Unique is one of the three alternate dragonsonas of Unique.
Unique
Image Artist
shrug emoji
Background Information
Creator

unique

Theme Animal
rainbows (ferrets, cats)
Theme Color
red-violet
MBTI Personality
INFP-T
Character Information
Age
5 (dragon)

16 (human)

Gender
female
Orientation
gay
Occupation
student, writer
Tribe
rainwing
Goal
hang out with friends, forget about life's problems, be happy actually screw all of that i want a damn cat
Nicknames
nugget, spew, unit, krystal, 'nique (strongly advise against calling her that)
Residence
Rainforest
Relatives
Beauty (mother); Toucan (father); Amethyst (younger half-sister)
Allies

Raccoon

,

Daybreak

,

Von

,

Daybreak

,

Windy

Enemies
None. Who actually has time for enemies anyway?
Likes
FRUITS (especially peaches, strawberries, and apples), writing, language arts, gum, books, hanging out with friends, helping others, science, plantain, ferrets, cats, bunnies
Dislikes
math, school, history, sisters, puns, learning f r e n c h
Powers and abilities
coding, writing, reading, RainWing venom
Weapons
pocket knife, claws
Love Interests
millions of wives. too many to list down. the wife of all wives
Quote
"What if your teeth had teeth? Hahaha! Just kidding! Unless...?"
"Did you know life started in pee?"
"Yeah, babey!"
"No. No, I don't think it did."
~ Semicolon, Raccoon, and Unique ~
Small and cute are the words most often associated with Unique's physical appearance.
She has a baby face, with round, chubby cheeks and unbelievably small ears. She's hilariously short, maintaining a height that rests at the shoulders of most dragons her age. Despite not having any IceWing ancestry, her claws are sharp and jagged; the better to remove your eyes with. Over an auburn gaze, black and red glasses sit snugly on the bridge of her nose, silver teardrops sitting beside the upper corners of the lenses.
Bearing resemblance to a violet-backed starling, she is caked in a majority of smooth red-violet scales, while her underbelly is a simple white shade. Glimpses of pink manage to peek through around her wings, the middle of her back, and the ends of both her tail and snout. Her iridescent scales lead into her horns, a slightly pinker color with the same brilliant sheen. Though, the underside reveals the difference between the elegant scales and stark white horn. Tucked behind her ears sits a dark magenta ruff.
"My tummy hurty."
"If Fatey was here, she'd jump down your throat and soothe your stomach from the inside."
"I would."
~ Jubilee, Unique, Fatey~
likes books
SUPPORTIVE
OUTSPOKEN
easily excitable about specific things like girls
in seb's words "you have that tastey dry humor that makes people go "OOOOOOH" in which you dab on them"
really cares about others
will often point a watergun threateningly at friends
illiterate
imposing or cold demeanor until she sees a pretty girl
wants to be a scary imposing person who will kick you in the teeth if you disrespect her or her friends but in reality,,, she is simply a bunny.
you cant be mean to her because shes already mean to herself
shes actually pretty chaotic

will burst into random animal noises

will deck you
stays up until like 1 am on school nights

4 or 5 am on weekends or holidays

loves to discuss her interests (in women)
a true clown
"Are you licking your hands?"
"I'm in your mouth."
"Well my water was tasting like blood earlier..."
~ Raccoon, Daybreak and Unique ~
STRONK

she will punch you into next tuesday

fast apparently
good at writing & coding (mostly coding)
surprisingly good at math??? when did that happen i have no idea
"I don't think you can swallow a scream."
"F**king try me."
~ Unique and Sprinkle ~
her backstory? nothing. it wasnt documented
"Uniq. Ship art. For you. I'm making."
"WHAT?! STOP IT!"
"No."
"I KNEW I SHOULDN'T HAVE GIVEN YOU DETAILS. I SHOULD HAVE JUST SAT THERE AND ATE MY FOOD."
~ Cloud and Unique ~
R E L A T I O N S H I P S
im going to take forever to fill these out arent i
"Unique: I don't need the sun, I'm tardigrade."
"flap flap falfap"
~ Sui and Unique ~
she hates chocolate
she physically can not drink orange juice or eat any carrot deserts
shes a pisces
if you couldnt tell she is IMMENSELY gay for really pretty and strong women
her number of wives is forever unknown
she wants a cat :(
despite living in canon pyrrhia, she knows human swears

she WISHES she was powerful enough to universe hop like sapphire
"Hm... well, it's not going to be much a break considering contest prizes."
"Yeah, but it'll still be a break even if it's partial, yknow."
"Well If I do win a prize, I'll let you rest before asking for anything."
"If you don't take a break I will actually come to your house and steal your money."
"Three kinds of people."
"THEY HAVE ALPACAS!"
"Four kinds of people."
~ Unique, Cloudeyes, Infinity, Unique (again), Kit, and Infinity (again)~
Community content is available under
CC-BY-SA
unless otherwise noted.