please don't steal my coding
This character belongs to Verglas, please refrain from taking her, thank you
please follow reference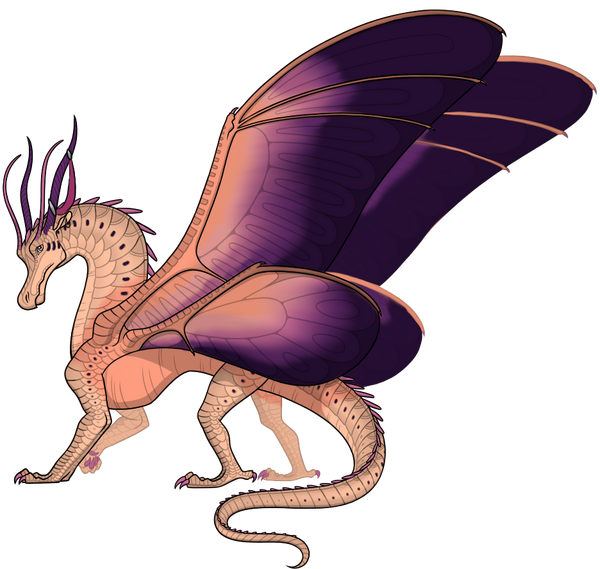 click image to view the artist.
overview
Night
Art By

verglas

Background Information
Aliases
text
Creator

verglas

Main Attribute
sarcasm / arrogance / pride
Elemental Attribute
crowns / stars / ribbon / night skies
Theme Animal
moth of some kind.
Theme Color
oranges / dark purples
Theme Song
Character Information
Age
27 (human)
Gender
female
Orientation
lesbian
Occupation
alchemist / servant / poet
Tribe
silkwing
Goal
find the key to immortality
Residence
bloodworm hive
Allies
other alchemists / cethosia
Enemies
hivewings / those who get in the way of her task
Likes
insects / sunsets / attention
Dislikes
distractions / annoyances
Powers and abilities
normal silkwing abilities
Weapons
talons / teeth
Love Interests
ha, ha,,,
Quote
"pfffft, that's your brilliant plan?"
credit to reverb for design.
see reference
mainscales a dusky orange, rather pale in coloration, head is a lighter hue, following down to the bottom row of scales and underbelly (which is an even lighter color)
a darker orange dusts the scales when entered near the legs and stains the scales throughout the back near the wings and base of tail, this is the main hue of her underbelly
droplet spots on both sides of body are a dark, dusky purple, little triangles of dark orange slice the upper scales followed by a thinner highlight that is slightly darker
spines upon back are a dark pink, these are also the color of her talons and claws upon wings
Horns upon head are a dusky purple, not quite as dark as her droplet spots though, this is followed with waving pink antenna, similar hue to that of Night's spines
dark amber eyes with hints of brown and chestnut, dusky purplish-pink cloth dangles from right horn, is transparent
eye-catching wings like the dusk sky, starts off stained with blotches of orange but soon fades into a dusky purple, dark eggplant purples and perhaps some deep violet and finally are the edges of her wings, darker compliments that can't be seen too easily in the raging storm of dark purples
stocky build, quite small for age but still pretty tall, long tail and neck, panther-like legs and abnormally large wings
pretty intimidating if you see past her beauty (i guess you could call it that anyway.) she's kinda big and always has either a grim frown or friendly smile on her snout
plated scales at top of head are the same as her mainscales, just to mention, this same color cakes the fronts of her legs too, the rest of the scales on the legs are either a light orange like that of her underscales or stained with the pastelish orange
narcissistic and prideful of her appearance and the fact that she is an upper class makes these two personality traits stronger
takes her job as a servant seriously, then again she's a bit of a rulebreaker, but still is willing to do her job perfectly
mischievous and in some cases manipulative, not many like her too much for that reason
mysterious at some points, sometimes loses consciousness of herself and turns into this new dragon that lives inside her, a dead spirit who's really kind an' stuff
and with that, love. enjoys gardening and is willing to help out, unlike night, she doesn't want to hurt anyone and hates fighting
night doesn't know about her or anything, mostly because she forgets entirely about what happens when that kind of stuff happens
can open up to those she trusts, but usually doesn't because that's just her, loves insects and secretly likes studying them, won't hurt a single insect because she loves them so much, no matter what anyone says
hatched to upper class parents of bloodworm hive, they weren't the nicest and that sort of rubbed off down on her, usually they strutted around with the hivewings like they owned the place
other stuff
R E L A T I O N S H I P S
for relationships, please roleplay beforehand
Community content is available under
CC-BY-SA
unless otherwise noted.