she/her | strait | has lots of hate for homophobs | is pugley | autistic 
hello people, dragons, and random pugs!!!!!
im doing awesome and terrible at the same time. here is my most decent art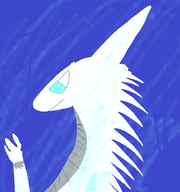 art trades: closed, its not drawing season for me(i wont have my computer to do art
art requests: closed, i like stuff in return
coding: idk how to code
a home on Secrets island for your OC or sona: open, but i might say no
if you are homophbic Hackberry will yeet her spear into your chest, so, homophobs, just leave. Also I'd love to talk about sanders sides! 

Give Kudos to this message
You've given this message Kudos!
See who gave Kudos to this message
Community content is available under
CC-BY-SA
unless otherwise noted.