Feel free to chat about our shared interests, recommendations, anything you need help with, art, writing, or anything else here! I'm always happy to chat. However, please refrain from being mean for breaking wiki or wall rules.

I am a huge Steven Universe fan, so I would love to talk about it. I am obviously also a Wings of Fire fan, so that would be great to talk about too.

I can do art! I can mostly do digital, but I can do traditional too (but I'm better at digital). Here are some examples of my art:
Wall Rules
Work in progress
Do not be mean in any form, including things like racism and homophobia.
Please refrain from swearing if you can, even minor/censored swears.
Do not openly insult my interests, although it's fine to say that you don't like them or are not interested in them.
Feel free to offer critiques for my OCs, but don't insult them, as they are very important to me.
You can come into a conversation that you didn't start, as long as you have something to say that relates to the topic that is being discussed in the thread, not just random chitchat/advertising/spam.
Oh, one more thing before you chat! This is Softy, my pet rock. He eats rules, so be sure you've read all the rules so you can feed them to him.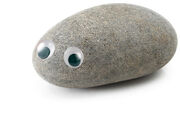 Give Kudos to this message
You've given this message Kudos!
See who gave Kudos to this message
Community content is available under
CC-BY-SA
unless otherwise noted.