be kind, they're sensitive. think about what you're going to write. don't be pushy. don't be rude. try your best to ensure that you're not guilt tripping. be civil.
they don't have a name yet, but you don't need a name to have an identity. beyond that, picking one that fits is much more important than plucking one out right away. i hope their lack of a word attached does not bother you.
in case you're wondering, they're a new companion. a friend, naturally. to join me for 2020, and possibly beyond. this is a friend. not a pet. a friend.
be kind, and i will try to do the same.
---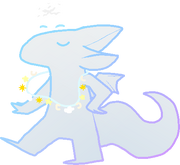 (by egg! [fear])
this is. a draggo. again, draggo does not have. a name. oops. however, I am very clearly definitely justified in this because finding names are hard.
this is. well, a draggo. now, she might seem a little snobby and annoyed and well,,, not the best draggo to be around. which would be true. (hey!) and that is true of me as well. i get angery easily, so sorry if my moments of >:(((!!! get unleashed on you. it is not your fault and i will apologize. it's okay!! <3
. requests .
"what's open and what's not"
| Art: TENTATIVE | Coding: TENTATIVE | RPs: TENTATIVE | Collabs: TENTATIVE |
Floofs: CLOSED NO ABSOLUTELY NOT GOODBYE
if it says tentative, it means i might. you can ask, but i have every right to reject you.
---
. the wall .
"and what's on the other side?"

Give Kudos to this message
You've given this message Kudos!
See who gave Kudos to this message
Community content is available under
CC-BY-SA
unless otherwise noted.