. rules .
"I do not generally permit people to talk when I am talking" – Professor McGonagall
You need to feed Squiggle to pass
Please be polite
If someone dared you to do something involving this place, I dare you to ignore their dare
I'd prefer if you used proper grammar
Please, no giant all cap messages
---
. squiggle .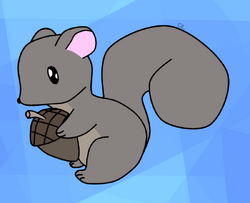 This is Squiggle. She only eats nuts, berries, and sugar cubes.
And she's adorable.
I know.
---
. requests .
"what's open and what's not"
| Art: TENTATIVE | Coding: OPEN | RPs: OPEN | Collabs: DEPENDS |
---
. stuff to distract you .
"Exactly what you think it means."
---
. the wall .
"and what's on the other side?"

Give Kudos to this message
You've given this message Kudos!
See who gave Kudos to this message