. rules .
"I do not generally permit people to talk when I am talking" – Professor McGonagall
You need to feed Squiggle to pass
Please be polite
If someone dared you to do something involving this place, I dare you to ignore their dare
I'd prefer if you used proper grammar
Please, no giant all cap messages
Please just. Be nice. Follow wiki rules. I'll happily kick you out otherwise.
Check my status before you request
---
. squiggle .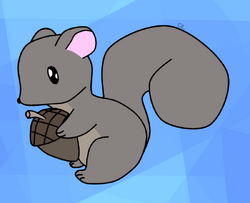 This is Squiggle. She only eats nuts, berries, and sugar cubes.
And she's adorable.
I know.
---
. requests .
"what's open and what's not"
| Art: TENTATIVE | Coding: CLOSED | RPs: TENTATIVE | Collabs: TENTATIVE |
if it says tentative, it means i might. you can ask, but i have every right to reject you
---
. the wall .
"and what's on the other side?"

Give Kudos to this message
You've given this message Kudos!
See who gave Kudos to this message
Community content is available under
CC-BY-SA
unless otherwise noted.