adopted from moonlight's center!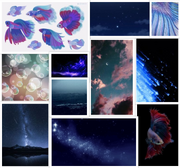 overall notes

smol seawing dragonet bean
lives in the sea kingdom
attends a prestigious art school

appearance

really short? super flexible
zero muscle
wiry and lean, always fidgeting with something
willowy, thin build
digs his talons into the ground a lot
always has a worried-looking expression
keeps himself squeaky clean
as a result, scales are really reflective
reflect light in a sort of feathery way
mainscales are dark blue, the color of the ocean at night
underscales are a shade lighter
overscales are deep indigo, slightly darker than mainscales
glowscales are silver
wing membranes are blue-gray and speckled with tiny silver scales like stars
horns and spikes are also blue-gray
talons are silvery-pink
tail looks really weird: it's feathery, purple-gray, and the end fans out like a betta fish
coral-pink eyes
wears silver spectacles because he can't see very well
satchel slung around his thin shoulders, filled with whatever he picks up that day

personality

a little shy, but doesn't avoid social interaction
quiet, uses words sparingly
bad at conversations
wants friends but is too awkward
tends to blurt out random things when he gets excited
gets really drained by crowds
naturally steers conversation away from himself
prefers not to talk about himself because it makes him feel selfish
when with friends, he really opens up
often does "random acts of kindness" for strangers in hopes of earning a friend
super empathetic and is really good at reading dragons
unfortunately, isn't good enough with words to really connect with them
very selfless and would give his life for even a stranger
burns himself out trying to help others
extremely emotional
he'll cry if he sees anything from a lost dragonet to a dead butterfly
super imaginative and creative
thinks outside the box
likes to fantasize about what the dragons around him are going through
zones out sometimes, just philosophizing about life and deeper meanings
also very sensitive, often feeling insulted from the smallest slight
will forgive again and again and again
if he gets truly mad, which is rare, he'll cut the offender completely out of his life
soft-spoken, and although he believes in his ideas, he doesn't want to fight about them
negative in everyday conversation, but positive about the world itself
believes in the light of dragons
incredibly humble and often degrades himself in order to lift up others
Community content is available under
CC-BY-SA
unless otherwise noted.