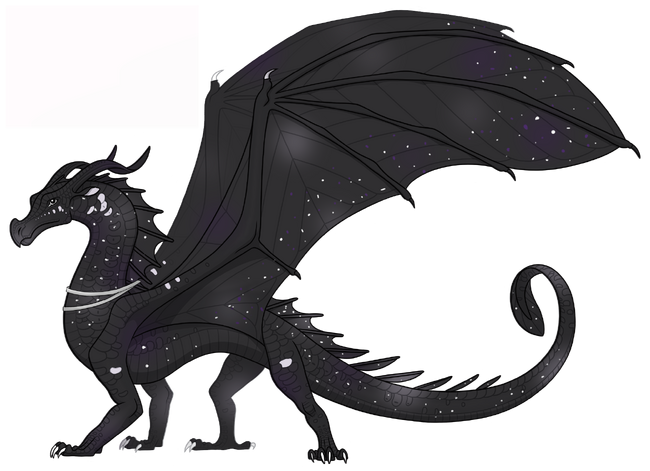 Please don't steal my coding!
Black Rose
Image Artist
TwilightWOF
Background Information
Creator
salvation and wolves
Coding
Ice
Main Attribute
Resiliance
Elemental Attribute
Night
Theme Animal
Panther
Theme Color
Black
Theme Song
Natural
MBTI Personality
Character Information
Age
30
Gender
Female
Orientation
Straight, or demisexual heteromatic
Occupation
Gang Leader
Tribe
Leaf/Night
Goal
Make her gang the most successful in Stonewell
Nicknames
Rose
Residence
Stonewell
Relatives
Unknown
Allies
Haunted Forest Gang, Volt
Enemies
Any other gang, mostly the FireMists
Likes
type here
Dislikes
type here
Powers and abilities
Fire, weak control of plants
Weapons
Always has a dagger but likes to use bows
Love Interests
Volt
Quote
type here
An elegant frame, large and beautiful LeafWing wings that cover the sky in a blanket of stars. Eyes as black as the abyss, lithe and narrow, yet powerful. A dragoness of darkness.
Upom closer look you can see purple hues within her smooth, black scales. Lighter colors to contrast the deep colors of her mainscales.
She holds herself with dignity, and bows for no one. She has mastered the art of sitting still and imposing, as intimidating as a dark beast yet as beautiful as a flower.
Like a galaxy, Black Rose has intricate marks on her scales in no particular order. Grays, blacks, whites and purples define her.
Black Rose is the type of dragon you can't help but stare at, she is unique and beautiful, a rare case of a hybrid dragon having gorgeously random genes.
Like the shadows cast by dark clouds, covering the moon in all it's glory. Black Rose is the night sky, a shimmering black with gorgeous white, starry specks.
YEET WORK ON THIS WOLVES
text
text
text
Community content is available under
CC-BY-SA
unless otherwise noted.