This little icy nerd belongs to Essence, and he's adopted from Wild's Adoption Center! Please do not use him or edit this page without permission, thank you <3
Floe
Background Information
Art By
N/A
Creator

Essence

Aesthetics
Snow / blue feather quills / frozen water / books / windows during winter / blue frosting / starry nights / white cats / aurora lights / crystal refracting light
Attribute
Curiosity, intelligence, doubt
Element
Water
Theme Animal
Sea lion
Theme Color
Cyan
Theme Song
MBTI Personality
ISFJ-T
Character Information
Age
8 D.Y. / 17 H.Y.
Gender
Male
Orientation
Gay
Occupation
Student, beginner writer, self-proclaimed ultimate nerd
Tribe
IceWings (with very faint SeaWing descent)
Other Names
None unless you count the times he was mistaken as Hail
Goal
To improve / to be better at writing / to learn about as many things as he can / to find love
Residence
Hikari
Relatives
Unknown parents, Hail (twin brother)
Allies
Lightbeam, Mintdrop, Hail, Camellia, Fleur
Enemies
Doesn't really have any
Likes
Reading, books, science, solving problems, games that require logical thinking, puzzles, riddles, science puns, happy endings, bright places
Dislikes
Anyone being sad, feeling insecure or doubtful, being accused of something that he didn't do, hot temperatures, darkness, violence, the idea of physically fighting, hurtful words
Abilities
Normal IceWing abilities, intelligence, great memory
Weapons
Frostbreath and claws, but he's kinda pacifist
Love Interests
He's currently a single bean
Quote
"Oh, this question? It's not that hard to solve... uh, do you need any help?"
hehe see ref for now
basically looks the same as his bro
very pale blue icewing
with cyan gradients in scales
cyan colored horns + spines
weird blue swirls all over body and wings
glow in the dark
typical nerdy sort of guy
socially awkward but is getting better at socializing
likes reading so much
interested in almost everything, curious bean
not very courageous and is trying to be
sensible dragon, always reminding and toning down other more extreme personalities
dislikes conflict, and almost never takes sides in arguments
Likes to read with music on
Electronic is probably his favorite genre
Enjoys all sciences but his favorite branches are biology and astronomy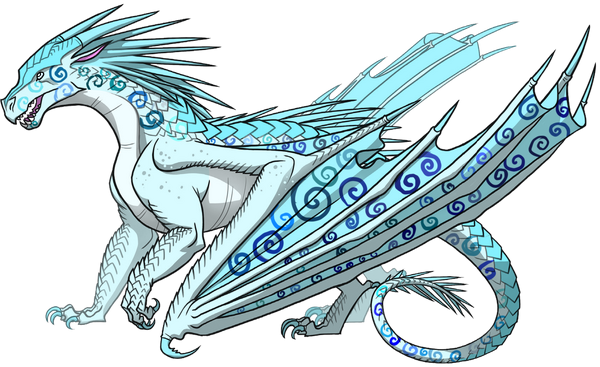 Please follow the amazing reference above done by Wild when drawing him! <3
Community content is available under
CC-BY-SA
unless otherwise noted.